MindSpa Afternoon Alertness/Evening Sleep Enhancing Glasses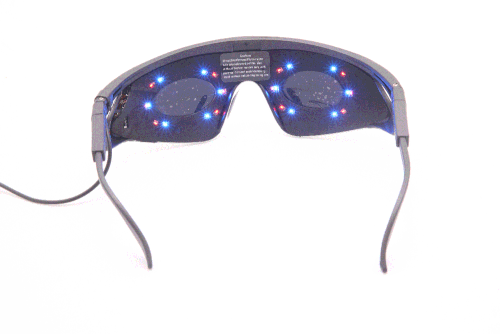 3-option Ruby Red/Blue 24-led Glasses Combination Closed or Open Eye
$79.95
Product Description
Using the three-position switch located near the left temple, choose from Ruby Red for evening use, Calm Blue for resetting your body clock when traveling or when in low natural light areas, or Red/Blue Combination for afternoon alertness.
Our newest Brainwave Entrainment Glasses offer three options:
· 12 Ruby Red LEDs only
· 12 Calm Blue LEDs only
· 24 Red/Blue combination LEDs.
Recent university research funded by the Office of Navel Research shows that exposure to specific wavelengths of combination red and blue light has the potential to increase afternoon alertness during the typical "post-lunch dip."
Afternoon fatigue is among the leading causes of automobile accidents, workplace incidents and related injuries. The post-lunch dip typically occurs anywhere from 1-4 p.m.
Our long wavelength ruby red leds can be used in the evening without affecting circadian rhythms, but can help increase alertness. Light in the short wavelength blue range is shown to cause sleep disruption and is not recommended for night use unless the intention is to stay awake.
· Versatile, choose between eyes closed or eyes open mode
· Closed Eye use recommended for general everyday use
· Open Eye use is beneficial where physical movement kept at a minimum
· CP (center pin positive) works with all MindSpa products and as an upgrade to most competing devices
· One year warranty on accessories covering manufacturing defects
Our unique 24-light peripheral design is the culmination of our decades of experience in visual/auditory stimulation. These LED glasses were developed through research and testing with the assistance of one of the top brain research institutes in the world: the Human Physiology Department at Moscow Lomonosov State University.
Our multi-purpose 24-LED glasses may be used either with eyes closed or open. Closed-eye use is the most common method for use. For best results, we recommend use in a quiet location with low ambient light.
To learn more read our detailed 88-page eBook packed with helpful information: Gaining Maximum Benefit from Your MindSpa, available from Amazon, or as a free bonus when purchasing MindSpa products and accessories. (Please register above to access your copy.)